"The whole philosophy of BECCA is about creating a natural, flawless look. It's really about skin looking amazing - everything else is secondary." - Rebecca Morrice Williams, Founder

Enabling ALL women, regardless of age or ethnicity, to achieve a natural looking, flawless complexion is the bedrock of BECCA.

While most cosmetic companies offer 3 to 7 concealer colours, the BECCA range features no less than 34 concealer colours and 30 foundation colours. As well as natural toned shades for face, lips, cheeks and eyes; and you have a complete cosmetic system that will enable ALL women to achieve BECCA Beauty.
Rebecca started her career as a make-up artist in Perth, Western Australia. Frustrated by her own inability to find the 'perfect foundation' that would look natural, conceal blemishes, feel weightless on the skin and stay fresh all day she set out to create it herself.

Through her passion and persistence, Rebecca has developed a range of cosmetics that has delighted the most demanding make-up artists of the world, excited the most respected beauty editors and met the needs of the busy modern woman.

"My search for the 'perfect foundation' became a mission that was to prove as elusive as the search for the Holy Grail!"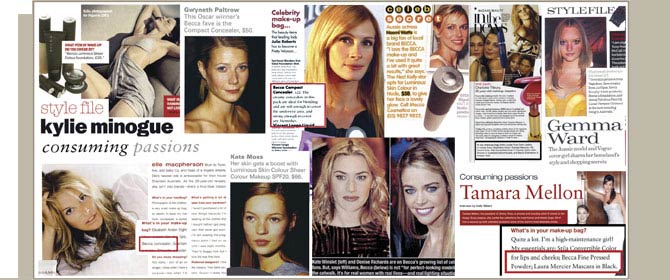 Gwyneth Paltrow, Julia Roberts, Cameron Diaz, Drew Barrymore, Cate Blanchett, Kate Winslet, Naomi Watts, Toni Collette, Thandie Newton, Sienna Miller, Ashley Judd, Kylie Minogue, Alicia Keys, Dannii Minogue, Serena Williams, Elle MacPherson, Kate Moss, Naomi Campbell, Alek Wek, Erin O'Connor, Helena Christensen, Gemma Ward, Mary Greenwell, Charlotte Tilbury, Noni Smith, Karen Alder, Val Garland, Kay Montano, Elsa Morgan, Nigella Lawson, Collette Dinnigan, Jade Jagger, Tamara Mellon and many more...